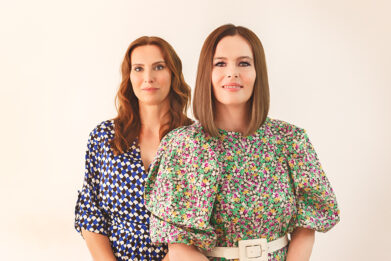 who is
pr/ticular?
PR/TICULAR helps you create particularly exceptional ideas and concepts to communicate your brand's message. Based in Zurich, PR/TICULAR is a full-service PR & Brand Relations agency that works with a large "glocal" media & expert network to guarantee the ideal placement and consequent exposure of your stories to your target audience.
PR/TICULAR offers retainer and project-based clients a full range of integrated PR & Brand Relations services in local markets and on an international scale.
A key emphasis of PR/TICULAR is on storytelling and buzz creation. PR/TICULAR will connect you with effective cooperation partners to intensify and extend your brand's values through select media, and ultimately stimulate consumer demand.
As a boutique agency with a distinctively personal approach, PR/TICULAR works as a collaborative atelier tapping into a deep pool of media experts and creative talent. This assures individualized concepts and winning solutions.
LUCY TALLO – Founder & President
A true global citizen, Lucy Tallo was born in Bratislava, Slovakia and has lived in various countries around the Globe. Over the last 15 years, she has consistently built up an international network of leading industry professionals, from media and creative heads, to a-list personalities and brands.
Lucy began her career in journalism, before joining a renowned communications agency as a PR-Consultant and a dedicated media coach. In 2010, she assumed the role of head of lifestyle and brand pr for the Kuoni Group. Her innate sense for the extra-ordinary shines through her distinguished portfolio of clients and focuses on fresh, independent and remarkable people and brands, which display distinctive craftsmanship, innovative ideas and personal charisma.
Since PR/TICULARS opening in 2012, Lucy Tallo has established an esteemed list of clients including: Credit Suisse, Kuoni, La Prairie, Jeanrichard, Park Hyatt, Moët-Hennessy as well as TAG Heuer, Hublot, Maserati or Ferrari – among various other fashion, lifestyle & luxury clients and projects. Lucy is a native German and Slovak speaker, and she is fluent in French, English and Spanish.
Katja Grauwiler – CEO Switzerland
Katja has many years of sound international experience on the corporate and agency side, particularly in the luxury and consumer goods and lifestyle sectors, and a close network of contacts around the globe. After completing her studies in hotel management, Katja has worked for numerous well-known clients from a wide range of industries such as fashion, beauty, hotels, design and art. Before joining PR/TICULAR, she ran her own PR & event agency in Zurich.
Thanks to her holistic understanding of public relations and the management of an agency, she strengthens the team with her broad know-how and is successfully implementing challenging tasks in this often fast-moving environment. Katja's strength also lies in linking a variety of channels such as conception, online communication, corporate communications, media relations, event management, marketing and sponsoring. Besides her native language German, Katja speaks English, French, Spanish and Italian.
the senior team
Team Zurich
Katja Cramer – Senior Account Manager
THANKS TO HER EXPERIENCE AS A MEDIA SPOKESPERSON FOR AUDI SWITZERLAND AS WELL AS IN EXECUTIVE POSITIONS IN THE MARKETING AND COMMUNICATION SECTORS, SHE EXCELS IN CORPORATE PUBLISHING, THE ORGANISATION OF NATIONAL AND INTERNATIONAL PRESS EVENTS & TRADE SHOWS WITH KEY SKILLS SUCH AS COMMUNICATION CONCEPTS AND STRATEGY DEVELOPMENT. KATJA IS A GERMAN NATIVE SPEAKER, FLUENT IN ENGLISH AND HAS VERY GOOD KNOWLEDGE OF FRENCH.
Celina Spescha – Senior Account Manager
Celina gained a solid public relations experience working for leading PR agencies in Berlin where she mainly specialized in the fields of fashion and lifestyle. She is adept in identifying new opportunities within the industry and create unique campaigns and stories, tailoring the brand image to help strengthen relationships and expand the fan base. Celina holds a Bachelor of Science degree in Media Engineering. She is a native German and Romansh speaker and additionally speaks English and Italian.
Gabriela Martinovic – Account Manager
WHILE STUDYING FASHION DESIGN IN ZURICH, COUPLED WITH A SPECIALIZATION IN MARKETING AT THE CSM IN LONDON, GABRIELA WAS ABLE TO GAIN FOUR YEARS OF EXPERIENCE IN THE FASHION AND GASTRO INDUSTRIES AS IN EVENT AND PROJECT MANAGEMENT, BOTH IN SWITZERLAND AND CROATIA. SHE IS A GERMAN AND CROATIAN NATIVE SPEAKER AND FLUENT IN ENGLISH.
Sarah Maag – Account Manager
SARAH HOLDS A BACHELOR DEGREE IN COMMUNICATION SCIENCE AT THE UNIVERSITY OF ZURICH AND HAS SEVERAL YEARS OF EXPERIENCE IN SALES, MARKETING AND CONTENT MANAGEMENT. SHE IS PASSIONATE ABOUT ORGANIZING EVENTS AS WELL AS NETWORKING AND SOCIALIZING. SHE IS FLUENT IN GERMAN AND ENGLISH AND HAS GOOD KNOWLEDGE OF FRENCH AND ITALIAN.
GABRIELLE MOUSSAFIR – ACCOUNT MANAGER
GABRIELLE ACQUIRED A MASTER'S DEGREE IN ART HISTORY AND FASHION AND LUXURY MANAGEMENT. HAVING WORKED AT THE CENTRE POMPIDOU, FOR L'OFFICIEL DE LA MODE AND GIVENCHY GAVE HER A SOUND UNDERSTANDING OF THE LUXURY INDUSTRY, BEFORE SHE MOVED TO NEW YORK. THERE, SHE JOINED COTY LUXURY AND MANSUR GAVRIEL, WHERE SHE FURTHER HONED HER SKILLS OF EVENT MANAGEMENT, SOCIAL MEDIA, INFLUENCER MARKETING AND BRANDING. GABRIELLE IS A NATIVE FRENCH SPEAKER, FLUENT IN ENGLISH, AND HAS A GOOD KNOWLEDGE OF SPANISH.
Tina Thommen – Account Manager
Driven by her passion for communications within different branches, Tina has worked as a PR manager and a managing director of a Swiss music festival. Several years of working experience in agencies in the fields of lifestyle, sports, television and the cultural sphere allow her to conceptualise and execute projects that require thinking outside the box. Tina holds a bachelor degree in communication sciences and economics at the University of Zurich and is a native German speaker, fluent in English and has a solid knowledge of French.
Stephanie Katra – Account Manager
STEPHANIE HOLDS A MASTER'S DEGREE IN MARKETING MANAGEMENT FROM THE UNIVERSITY OF ST. GALLEN. WITH EXPERIENCE IN THE LUXURY COSMETICS, WATCHES & LIFESTYLE INDUSTRY, STEPHANIE GAINED A SOLID UNDERSTANDING OF THE LUXURY & MEDIA SECTOR – FROM BOTH THE CORPORATE AND THE AGENCY PERSPECTIVE. HER ENTHUSIASM FOR COMMUNICATION AS WELL AS HER PASSION FOR CONNECTING PEOPLE & ORGANIZING EVENTS IS WHAT MOTIVATES HER MOST. STEPHANIE IS FLUENT IN GERMAN, FRENCH AND ENGLISH AND HAS EXTENSIVE KNOWLEDGE OF SPANISH.
Team Lausanne
Laude-Camille Chanton – Managing Director Lausanne
AFTER GAINING SEVERAL YEARS OF EXPERIENCE IN VARIOUS COMMUNICATION FUNCTIONS LIKE PUBLIC RELATIONS, EVENTS AND SOCIAL MEDIA WITH INTERNATIONAL COMPANIES SUCH AS SHISEIDO AND L'ORÉAL, LAUDE-CAMILLE HAS MOST RECENTLY WORKED FOR A PR AGENCY WITH VARIOUS AND RENOWNED CLIENTS IN THE FIELDS OF BEAUTY AND TOURISM.
Anne Csànk – Senior Account Director
With more than 13 years of experience in communications, Anne has been working for exclusive watchmaking and jewelry brands as an International Communication Manager. After joining a PR agency in Switzerland in 2019 as a Senior Account PR Manager, Anne also gained expertise with multiple international clients in fashion, tourism, and hospitality. Moreover, Anne has a solid understanding of the luxury industry and its markets. She holds a License in Political Science and a Master of Arts from the University of Geneva, is a native French speaker and fluent in English and German.
Marion Talbot – Senior Account Director
With more than 10 years of experience in the luxury hotel industry, Marion has an increased and confident perception of press and public relations. She also ran her own agency giving her a sense of initiative and a 360° vision. Marion practices her profession with passion, commitment and rigor, from project development to their implementation. Her circle of skills? Consulting, strategy, PR, digital and a network of important journalists, influencers and Key Opinion Leaders. Marion is a native French speaker, fluent in English and has knowledge of German.
NARJIS MEHDI – SENIOR ACCOUNT DIRECTOR
Narjis has an international profile with an extensive experience in brand content, marketing and communications. Previously based in China, Morocco and France, Narjis started her career in corporate banking and telecoms before joining the automotive industry. She worked for 10 years at PSA Group where she had several roles including internal communications, PR, and international marketing & communications management.
Narjis is graduated with a Master degree in Communications from Sorbonne Nouvelle University in Paris and certified from the Institut Français de la Mode in « Digital Marketing Fashion and Luxury ». She is a native French and Arabic speaker, and fluent in English.
Yaël Bruigom – Senior Account Manager
Having several years of experience in the communications industry in various functions LIKE PR, MARKETING, EVENTS & BUSINESS DEVELOPMENT, Yaël has also worked for INTERNATIONAL RENOWNED BRANDS SUCH AS BLANCPAIN AND CLINIQUE LA PRAIRIE. She is FLUENT IN FRENCH AND HAS VERY GOOD KNOWLEDGE OF ENGLISH AND GERMAN.
Victoria Guarnero – Account Manager
The World economic forum and Cartier are among the companies Victoria has worked for in the communications sector. Furthermore, SHE HAS A DEGREE IN BRAND LUXURY MANAGEMENT AND STORYTELLING FROM THE ECOLE HOTELIÈRE DE LAUSANNE AND IS A NATIVE FRENCH AND ITALIAN SPEAKER AND IS FLUENT IN ENGLISH.
Catarina Henriques – Account Manager
Besides several years of experience in the luxury sector, Catarina also holds a degree in PUBLIC RELATIONS AND BUSINESS COMMUNICATION FROM THE UNIVERSITY OF LISBON. PRIOR TO HER TRAINEESHIP AT PR/TICULAR, SHE LAUNCHED AN EYEWEAR FASHION MAGAZINE WHERE SHE ACTED AS CHIEF EDITOR. FROM HER TIME WITH A PR AGENCY IN PORTUGAL SHE ALSO HAS SOME RELEVANT EXPERIENCE IN THE BEAUTY INDUSTRY. CATARINA IS NATIVE PORTUGUESE AND FLUENT IN FRENCH AND ENGLISH.
our services
• Integrated PR & Brand Relations Strategy
• National & International PR & Brand Relations
Campaigns
• Media Relations & Counsel
• Brand & Product PR
• Social Media Relations
• Brand & "Personality" Cooperations
• PR Events
• Product Launches & Placements
• Main focus on Switzerland